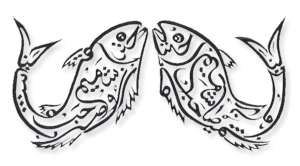 Lucknow is one of the most prominent centre of calligraphy and the contribution of the city in promoting the art is outstanding. Beautiful writing in Urdu, Persian and Arabic is known as 'khushnavisi'. The art of Calligraphy or khattati has been derived from khushnavisi. The decorative art of calligraphy dates back to 12th century in India when calligraphist started coming to India and it was through them that the script and this art became popular here. Kufi, Naskh, Thulth, Muharraq, Riqa, Diwani and Nastaliq are the popular styles of Islamic calligraphy. Even Sanskrit & Dravidian calligraphy was also popular in India with respect to inscriptions and manuscripts.
It is believed that Mir Ali Tabrizi was the main propagator of this art in regions of Lucknow and Delhi. Nawab Sadat Ali Khan also patronised this art during his reign. Hence, it was through writing in 'naskh' and 'nastaliq' that calligraphy reached Lucknow and attained a distinction which was unrivalled throughout India. The calligraphers of the Nawabi era were masters in this art. They tried writing even on food items like chana dal, rice, sweets etc. One of the calligraphers namely, Maulvi Mohammed Rashid was able to trace 'bismillah hir-rehman ur rahim' on a chana dal. Sources like Guzishta Lucknow and Tarikh-e-Lucknow mention in great detail about the art of calligraphy.
Various monuments in Lucknow are enriched with the art of calligraphy like Chota Imamabara, Karbala Talkatora, Imambara Zain-ul Abidin, Karbala Dayanat-ud Daula, Karbala Puttan Sahiba, etc. Calligraphy was very popular in Medieval times and was used in coins, manuscripts, farmaans, books and other items. Hashim Akhtar Naqvi from Lucknow has the distinction of having his name in Limca Book of Records for writing 'bismillah hir-rehman ur rahim' in various styles of calligraphy.